Posted by: rdauenhauer Feb 5 2018, 07:22 PM
If youve ever towed or moved your car w/ .5 shafts removed you run the risk of
wrecking the R. wheel bearings.


Here is the answer. A spare set of stub axles


Hardware included. Several sets available
$40 shipped (CONUS) Available https://914werke.com/shop?olsPage=products%2Frear-stub-axle-pair&page=1







Attached image(s)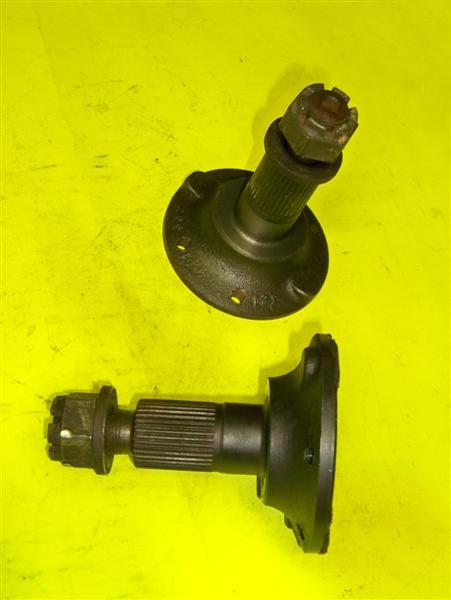 Posted by: BuddyV May 23 2018, 01:04 PM
OK.... I need help with this..... I have replaced rear bearings, so I can picture the rear set up. What is the problem towing without the 1/2 shafts attached?

I want to avoid having to re-do those suckers as best I can.

Please explain..... sounds like you solved a problem I was not aware existed.




Posted by: 914werke May 23 2018, 01:13 PM
Ill give this a shot, you CAN tow w/o the .5 shafts as long as stubs are installed.
The rear bearings are "Split bearings" effectively two races in a shell that are only held ridged when the shaft of the stub axle is installed, without that support they can come apart.

Posted by: mepstein Feb 25 2019, 08:38 PM
If you ever have to buy the nuts and washers you would realize this is a great deal.

Posted by: a9146luvr Feb 26 2019, 03:11 AM
looks to me like you're out of stock?

Posted by: 914werke Feb 27 2019, 11:33 AM

nope I have both Stubs & Tow brackets available

Posted by: euro911 Aug 15 2019, 12:07 PM
Does that go for old 911/912 rear bearings as well?



I'm going to replace the bearings when I start rebuilding the suspension, but just thought to ask, because the stub axles are out, and yes, I've moved the car (not too far, but it has been moved without them).

Posted by: 914werke Aug 31 2019, 08:44 AM
Mark if you are asking if the 911/912 use a split bearing in their trailing arms I dont have an answer for you...anyone?

Bump