Posted by: dh_berman Feb 11 2018, 07:36 PM
I have a 914 race car. I bought it with a kirkey seat installed on the stock sliders. The previous driver was large and had the seat all the way back against the firewall. I'm short and need to move the seat up quite a ways.

I would like to install something more substantial than the stock sliders. I have a carbon fiber OMP seat and a set of recaro double locking sliders with side mounts. I've seen some 914s where they have cut out the floor stiffener and bolted directly to the floor pan. Can anyone offer pros and cons of doing this? If I do cut out the stiffener do I need to reinforce the floor or build a frame to which I can bolt the sliders?

Any suggestions or insights are appreciated.

Thanks,

Dave

Posted by: naro914 Feb 11 2018, 09:48 PM
Unless you're tall, you don't need to take out that cross bar. We did on the full race car and yes, welded a 1/8 " plate across the floor to stiffen. On the race/street car we didn't. Seat sits on the beam at the front, and on 1/2" spacer in the back, you actually want some rake in the seat mount (higher in front, lower in back) or you'll be sitting way too upright in a single piece non-adjustable race seat.

Take out the stock mounts/sliders, grind/cut off the that little tooth thing that the stock seats use for tilting, and just run bolts through the floor (with backing plates)

Posted by: dcheek Feb 12 2018, 06:49 AM
These are the seats going into my buddy's 914-6 conversion. See "914 Score of the Century" threat in the Garage.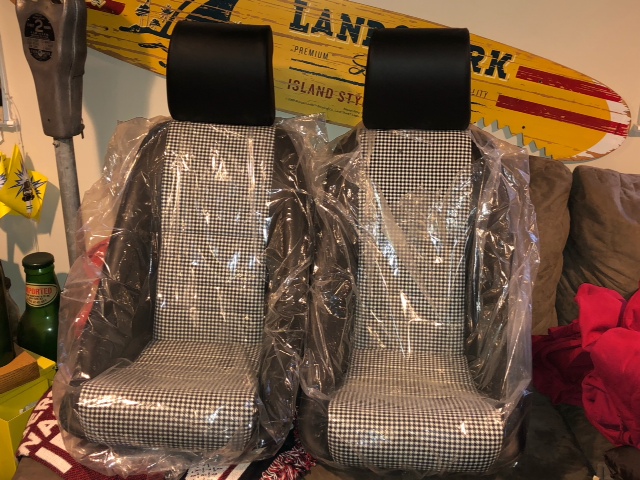 Dave



Posted by: dh_berman Feb 13 2018, 05:33 AM
Naro914,

I'm 5'5 so the seat has to be pretty far forward. The middle of the seat rail would sit on that cross member and the rest of the seat is floating in air. It also makes the seat quite high in the front. It seems easier and safer to remove the cross member and bolt it directly to the pan.

Can you tell me about the 1/8 plate across the floor to stiffen? Was that just in the area where you removed the cross member or did you make a solid plate the full size of the seat. I was also thinking of just building a simple rectangular frame - 4 pieces of steel maybe 2 inches wide and bolting the seat through that and the floor pan.

Anyone have any pictures of what they have done?

Thanks.

Posted by: naro914 Feb 13 2018, 06:59 AM
I can get you pictures next week after we pick up the car this weekend at the mechanic.
Remember, whatever you do the front needs to be higher than the rear. And you still may want a slider. Sitting that close will make it hard to get in and out of. We run sliders on both cars because I'm 6' and my wife is 5'5". Front of the slider on Huey sits on the beam, rear sits on a 1/2 inch spacer bolted through the slider, through the floor.
In the full race car Papa Smurf, the plate is only about 2" wide across the space where the beam was, but we had to fabricate a small riser on the front to tilt the seat some. You can get some tilt from the seat mounts but not enough. Again...it has a slider. When my wife gets in and out, she needs to push the seat back or she can't get out of the door very easily (and she's pretty small)

Posted by: dh_berman Feb 17 2018, 05:26 PM
Bob,

I plan on installing sliders.

How did you attach the sliders to the beam?

Thanks,

Dave

Posted by: naro914 Feb 18 2018, 06:50 PM
Dave
It depends on how your sliders mount to the floor. We have the Recaro sliders that have extended tabs on the, that are "wrapped" over the beam, then bolted through the beam. However, they don't exist anymore....so... with the sliders like OMP or Sparco that we sell, they can bolt right through the slider, through the beam, through the floor (vertical) with a backing plate under the floor pan. Hard to describe in a message...