Printable Version of Topic
914World.com _ 914World Garage _ 911 oil temp / pressure gauge
Posted by: falcor75 May 24 2018, 11:01 PM
I installed a 911 oil temp and pressure gauge this Winter.
I didnt want to hack up my engine tins to mount the sensor in the stock location so
I made bracket and mounted it on the fan housing where the stock coil sits and connected it to the oil pressure port with a piece of steel braided hose with the correct end fittings. It works well and doesnt leak but I've noticed that in long sweeping left hand turns I loose oil pressure, it never goes to zero but once or twice the light flickered on and then immediatly turned off again.

Do you think this could be a sensor location thing or perhaps an issue with my tuna can installation?

Posted by: SixerJ May 25 2018, 12:48 AM
Matt, 1st off I'm a 6cyl owner so have little detailed knowledge of the oil system on the 4s

My logic would say oil surge in the bend, then pump starts to struggle to pick up. But then you'd have to shift a lot of oil surely, being a wet sump and the oil pickup low down / central? Isn't internal baffling the same left and right, so why only in one direction

Some of my early cars like minis, triumphs had this type of issue, but often they had an offset pick up so an issue in one bend but not the other. Adding more baffles in the sumps in the triumphs in particular I seem to remember was common

I cannot imagine that the small about of oil in the extended pipe is being dragged away from the sensor due to centrifugal force against the pump?

While I'm at it, great looking car and maybe we need to applaud you for the size of your kahooners and speed through the bend......

Posted by: jcd914 May 25 2018, 12:59 AM
I have never experienced or heard of an issue like this with oil sender mounted remotely.

I have seen a few that came loose or lost their the ground.

I would check to make sure the sender is solidly mounted and has a good ground.

If there is nothing there to attribute yoyr symptoms to I would look at the tuna can install.

Make sure the pick up tube extension fits tight and goes all the way down to the bottom of the tuna can.

I always ran mine 1/2 quart over full of oil in addition to running a tuna can.

Jim


Posted by: 914Sixer May 25 2018, 07:32 AM
Not going to be sending unit. Sender is just showing loss of pressure. Never used a tuna can so I can't speak about them.

Posted by: bdstone914 May 25 2018, 08:35 AM
Not the sender,
Do you have a windage tray installed in the engine to reduce oil shifting in turns?
You are not picking up oil.

Posted by: GeorgeRud May 25 2018, 09:06 AM
You will lose oil feed in a long high G turn, and the oil gauge will show you when it happens. Back in the 70s, I used to track my 914 2.0, and it was always a concern on the track. The tuna can (or larger) deep sumps may have helped somewhat, but getting my -6 with a dry sump took care of it.

Posted by: falcor75 May 27 2018, 07:44 AM
I've got a tunacan installed, unsure about the windage tray, I'll look when I take the tuna can down to check what the issue could be. I see a pressure drop just taking a left in a roundabout with an inspired pace.... something is wrong...

Posted by: Jetsetsurfshop May 27 2018, 08:32 AM
I dont think its your pressure gauge. Most likely its correct.
I guess someone could of installed the tuna can with out the pick up extender??



Oil pressure was a big deal for me since I share the car in endurance racing. Worried that someone not familiar with a 914 wouldn't pick up on the idiot light or gauge info.
I run an accusump. I've never seen the light come on since. Even with slicks at Sebring.
Maybe something to look into.


Posted by: falcor75 May 27 2018, 09:44 AM
Yes I've already started investingating an accusump setup in case I cant find the problem. Do you have any pictures of your setup installed. It would be interesting to see.

Posted by: Jetsetsurfshop May 27 2018, 11:35 AM
Found this in my notes.


Attached image(s)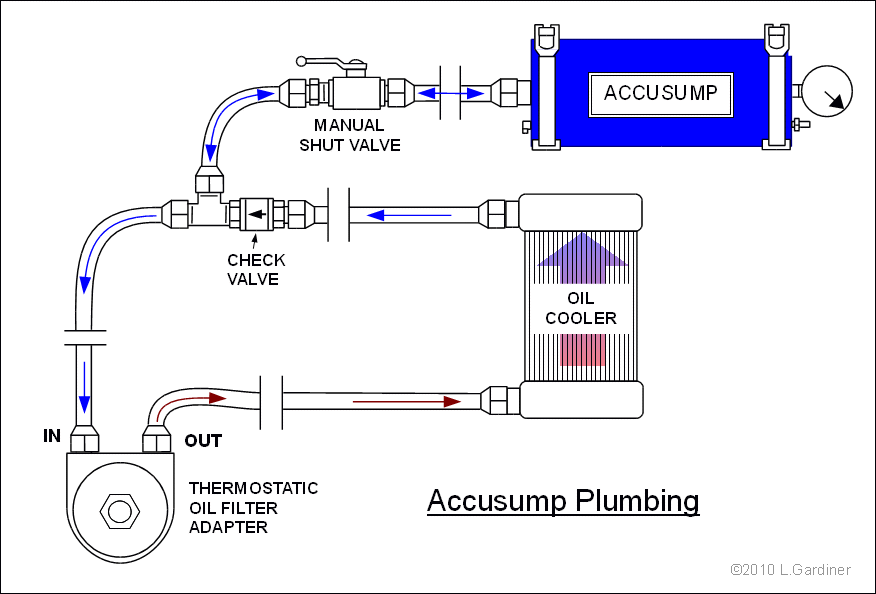 Posted by: Frank S May 27 2018, 04:04 PM
How are your heads vented? Don't think you have a problem with the pressure sender. The oil is probably stuck in the head and needs time flow back into the oil sump. Oillevel should be always at max of the dipstick.

Posted by: falcor75 May 28 2018, 12:53 PM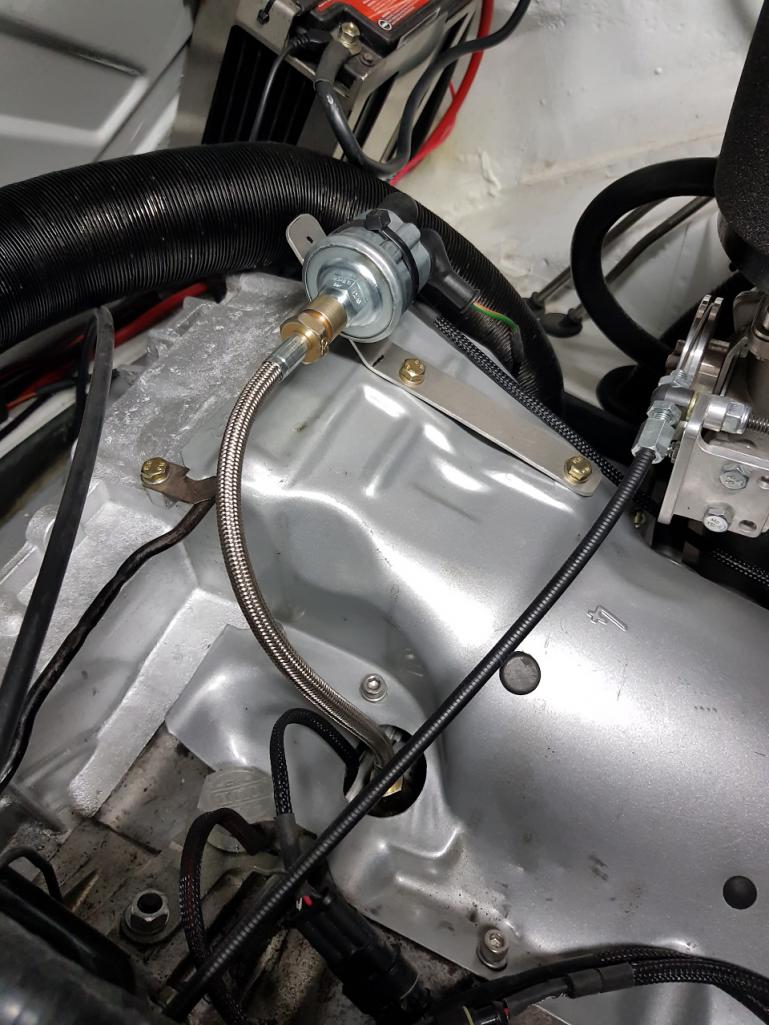 Here's the sensor mounting.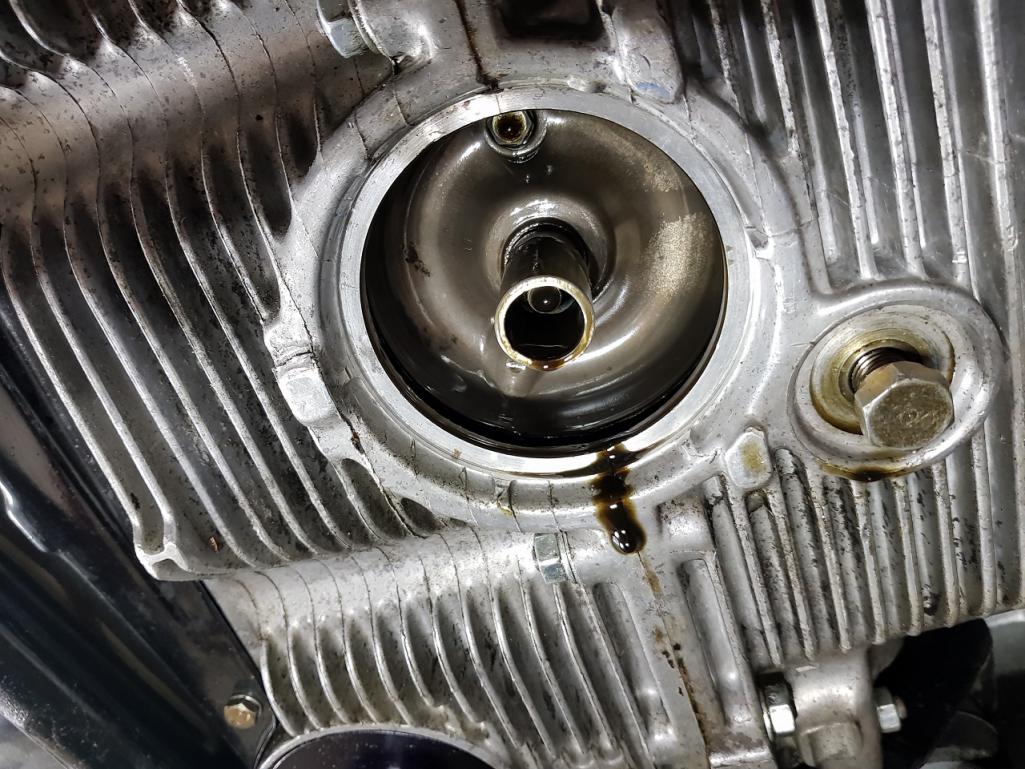 I took the tuna can off but I cant see anything wrong really. (I've got the Jonesy version)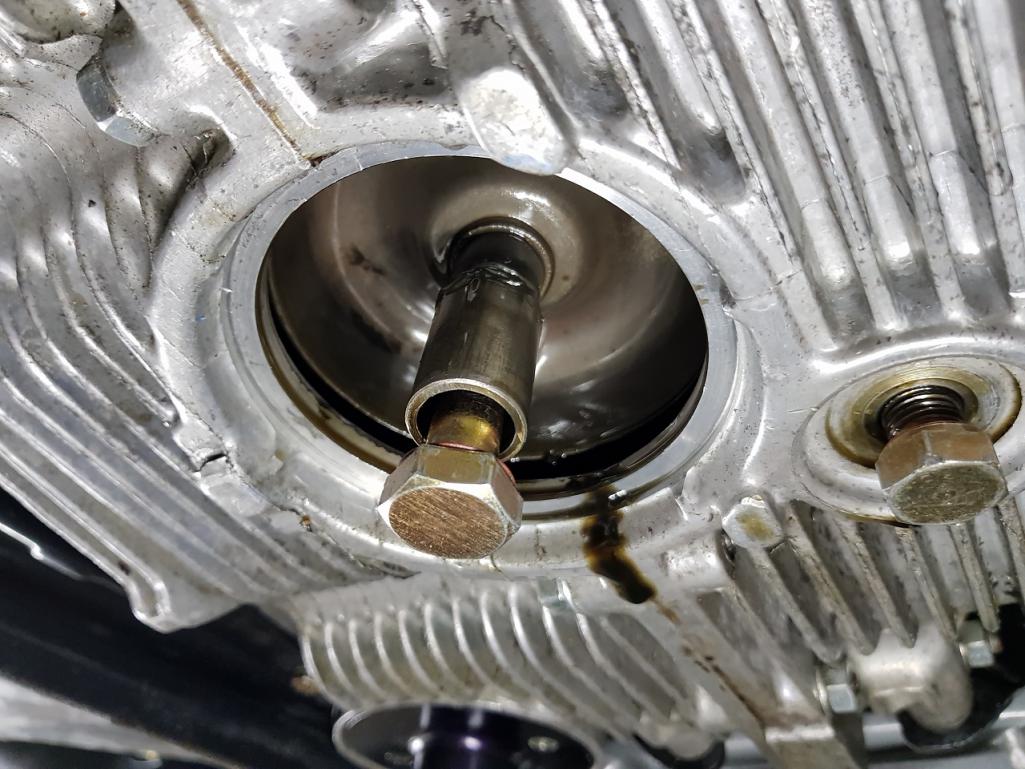 With the bolt that holds the can in place...


The heads are vented to a catch can along with the vent on the oil filler tower.

Posted by: Frank S May 29 2018, 12:42 AM
Hi Mats,

looks all good to me.

Check this:
https://newsite.hamheads.com/2016/12/10/type-4-crankcase-breathing-system-tests-analysis/

Posted by: falcor75 May 29 2018, 01:00 AM
QUOTE(Frank S @ May 29 2018, 08:42 AM)


Hi Mats,

looks all good to me.

Check this:
https://newsite.hamheads.com/2016/12/10/type-4-crankcase-breathing-system-tests-analysis/

I've read that a few years ago tried it on my old stock 2.0 engine but then suffered a sucked in valve cover gasket on the dyno which wasnt much fun. Thats why I avoided doing it on this engine. A bit wiser now I guess the sucked in gasket mostly depended on that it wasnt glued to the valve covers. I guess I will have to give it another try and see what happens. Thanks for reminding me.

Posted by: falcor75 Jun 8 2018, 02:19 PM
Tuna can remounted, overfilled with about half a quart/litre over max on the dipstick. Ive also plugged the head vents with some silicone rubber hats. The connector on the oil filler tower is routed thru a half inch hose to a catch can thats then vented directly to the athmosphere thru a filter. Havnt driven it much yet but at least it doesnt loose oil pressure in roundabouts anymore from what I can tell.

Posted by: Frank S Jun 8 2018, 03:45 PM
Great news.

As you have asked how others have mounted the pressure sender, here a pic of how I did it: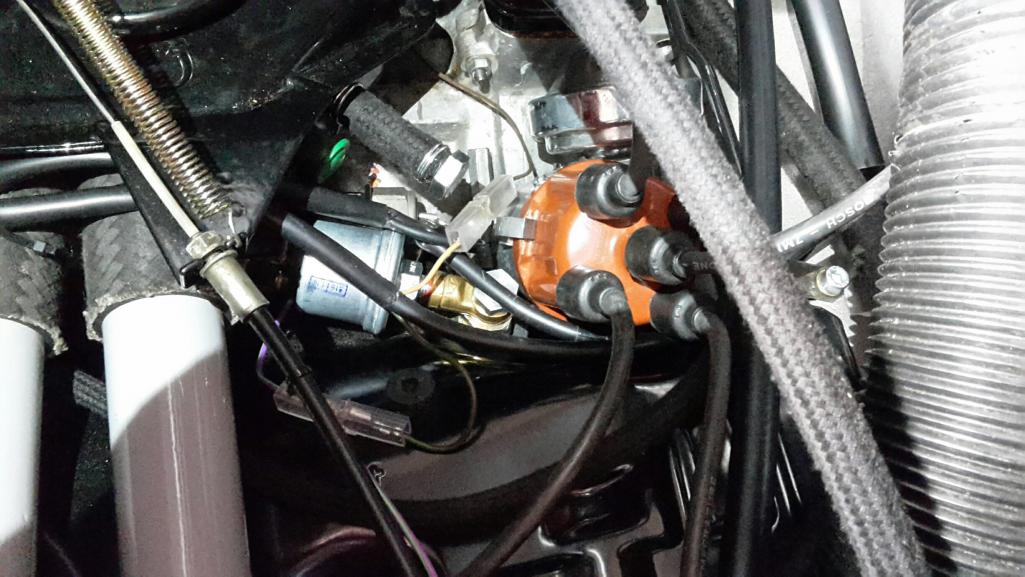 Cheers,
Frank

Posted by: falcor75 Jun 9 2018, 12:12 PM
Is it an adapter first that fits into the M10x1 hole and then the panjo bolt into the adapter or how did you set it up?

Posted by: Frank S Jun 12 2018, 10:57 AM
Hi Mats,
I've used following adaptor:
http://www.ezt-autoteile.de/VDO-Sensoren...15::264924.html

The adaptor need to be blanked off at the side port (M10x1) at the top its a ATE M10x1 Banjo fitting mounted with a M12x1,5 Banjo Bolt.

If I have a chance, I'll send a better pic next weekend.

Posted by: falcor75 Jun 12 2018, 11:57 AM
Thanks Frank. I'm toying with the idea of having the CNC guys at work make me an adapter on the lathe that will raise the sender up out of the engine tin hole.

Posted by: Frank S Jun 13 2018, 10:09 AM
Hi Mats,

this would not work with the distributor assembled, since the sensor would collide with it, therefore I was going the more complex route.

Why not simply a straight adaptor

https://www.schmieranlagen.com/anschlussstuecke-mit-zylindrischem-gewinde.html

They are cheap and available in different length.

Cheers,
Frank

Powered by Invision Power Board (http://www.invisionboard.com)
© Invision Power Services (http://www.invisionpower.com)