Posted by: Abeck914 Jun 13 2018, 05:57 AM
Hi all,

Anyone have an issue where their door won't latch? I see a lot of info on latches getting stuck/locked out.

I can see the latch release when I use either outer or inner door handle. I set the latch in the correct position and when I close the door it won't close. When I close the door I can longer see what the latch is doing but I have to assume it is spring related?

Can someone confirm the sierra madre door stay rebuild kit [and some cleaning] will get me back to operable door, or steer me in the correct direction.

Thank you in advance,

Aaron

Posted by: The Cabinetmaker Jun 13 2018, 06:38 AM
Door stay will not fix the closing problem. Remove the handle, latch on door, and latch on the door jamb. Clean all the old grease, and relube.

Posted by: bdstone914 Jun 13 2018, 07:12 AM
Probably just need a good cleaning. There is a spring that can come off and cause the latch to not work. If you do ned a replacement I have replated cleaned ones ready to go.


Attached thumbnail(s)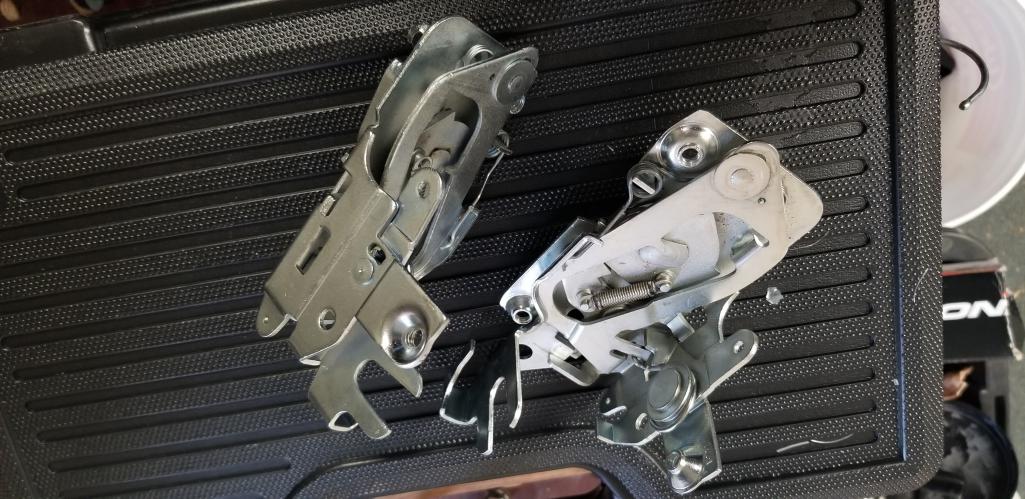 Posted by: era vulgaris Jun 13 2018, 08:02 AM
The striker could be out of alignment. That'll keep a door from latching closed!

Posted by: Abeck914 Jun 13 2018, 08:58 AM
OK,

when i use the handle to open the latch it swings open to the position (45 degree angle) that lines up with the striker. When it contacts the striker it doesn't "spring back" to complete the latching intent.

So, I'll start with the cleaning, and then contact bdstone if frustration sets in/failure.

Thanks for replying everyone [and not letting me order stuff that wont help!],

Aaron

Posted by: Abeck914 Jun 13 2018, 11:20 AM
QUOTE(Abeck914 @ Jun 13 2018, 08:58 AM)


OK,

when i use the handle to open the latch it swings open to the position (45 degree angle) that lines up with the striker. When it contacts the striker it doesn't "spring back" to complete the latching intent.

So, I'll start with the cleaning, and then contact bdstone if frustration sets in/failure.

Thanks for replying everyone [and not letting me order stuff that wont help!],

Aaron

Spring broke. and pep boys had one!! amazing