Posted by: Mueller Oct 10 2018, 10:23 PM
Congrats Glen, previous artwork for 000 was done by Steve Anderson (related to Bruce?)

Anyway, awesome 914 renderings and I love the proposed build, I vote for the later power plant with the 718 GTS motor.


Sorry, no pic as I do not want to get on Glens or Petes bad side.

@http://www.914world.com/bbs2/index.php?showuser=19709

@http://www.914world.com/bbs2/index.php?showuser=2058

Posted by: Optimusglen Oct 10 2018, 10:46 PM
QUOTE(Mueller @ Oct 10 2018, 11:23 PM)


Congrats Glen, previous artwork for 000 was done by Steve Anderson (related to Bruce?)

Anyway, awesome 914 renderings and I love the proposed build, I vote for the later power plant with the 718 GTS motor.


Sorry, no pic as I do not want to get on Glens or Petes bad side.

@http://www.914world.com/bbs2/index.php?showuser=19709

@http://www.914world.com/bbs2/index.php?showuser=2058

Thank you!!
We were all saddened by the loss of Steve Anderson, especially in the automotive art community. It left a hole that you just cant fill. Steve did things the old fashioned way a bit, true illustration with his hands, and trying to copy that would I think do a disservice to his legacy.
My process is vastly different, but with a similar goal. I was totally floored and honored to be given the opportunity, and am so excited for the future Builds!
I'm happy to share whatever is deemed acceptable by 000. I think its important to keep it special though, so don't expect to see any full page scans or anything of that nature.
Because threads are typically worthless without pics, here's another 914 I did up.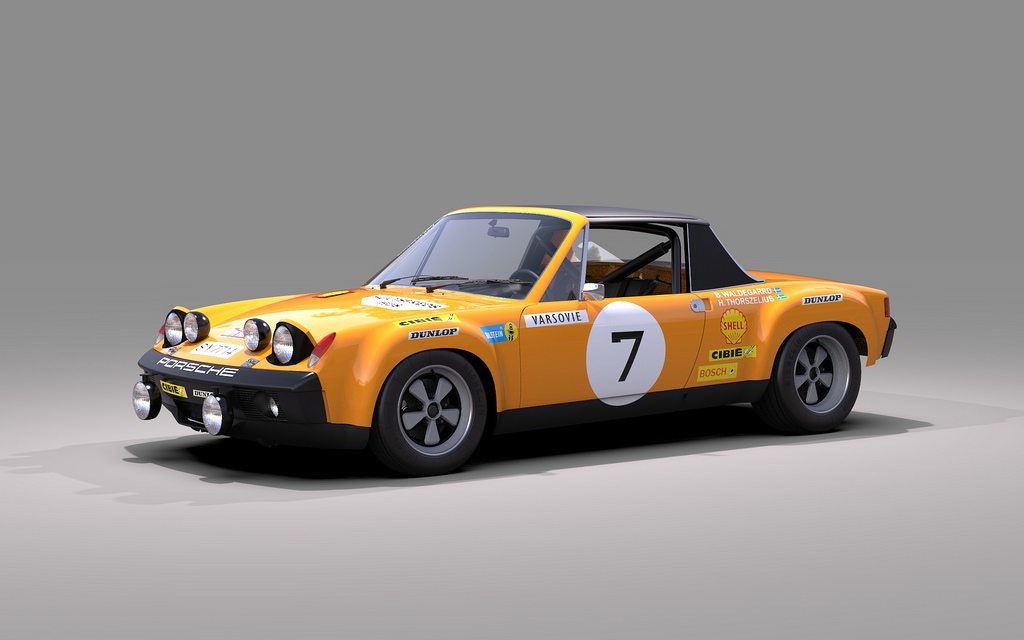 Posted by: Krieger Oct 10 2018, 11:29 PM
Your work is truly Excellent! Congratulations!

Posted by: Dion Oct 11 2018, 04:13 AM
Fantastic! Congrats Glen. Truly exceptional work.
Well deserved.
Cheers

Posted by: Mueller Oct 11 2018, 09:06 AM
I didn't know about Steve passing

Never met him, just enjoyed his work. Damn too young.

Posted by: davesprinkle Oct 11 2018, 10:23 PM
Hey Glen, you should do a sequel of the 914 comic image.

Posted by: horizontally-opposed Oct 12 2018, 07:43 AM
Glen's work is outstanding, and I'd been wondering how/if there was a fit to publish it (and if he'd be interested...) in 000 for a while.

When we lost Steve, which was both a hard shock and scary given his young age, it didn't feel right to simply find another illustrator. Steve was a very special guy, and way overqualified—as in, full on captain of industry when it comes to car design. (He just never had to let anyone know.) We let Build gap for an issue, and took a pause. It seemed that the right thing to do was to carry the project on in Steve's memory—he loved Build and put a lot of hours into it—but in a new direction with new talent and new technique. Enter a perfect opportunity to work with Glen.

With one done and the next one well along the way, I can say the whole team at 000 is thrilled to be working with Glen. And I first saw his work right here, on 914world. So, cheers to SirAndy for keeping the lights on, and to all of you for making this place what it is.





Pete