Printable Version of Topic
914World.com _ 914World Garage _ RIMCO vs. EMW
Posted by: yeahmag Mar 13 2019, 12:19 PM
Machine shop showdown!

My favorite machinist (RIP John Edwards @ Costa Mesa R&D) passed away over a year ago. I'm in need of a good machinist for basics for the next motor I'm starting to build up. Any opinions on RIMCO vs EMW for the basics?

* Case deck, line bore, and clearance for stroker
* Basic connecting rod stuff
* Cylinder inspection and honing

The normal stuff...

Thanks.

-Aaron

Posted by: mepstein Mar 13 2019, 12:27 PM
I thought Jake Raby once said anything that comes in with a Rimco tag gets thrown in the scrap pile.

Posted by: yeahmag Mar 13 2019, 12:28 PM
RIMCO bought FAT, so I have some hope. I've used them in the past for a few things and they did well.

Posted by: porschetub Mar 13 2019, 12:55 PM
Apparently Rimco isn't what it used to be,hope they don't drag down the FAT reputation

,don't remember hearing of issues with EMW.

Posted by: 76-914 Mar 13 2019, 01:23 PM
RIMCO; used them once and wasn't impressed with them. They were moving to their new location and as a result lost a long time employee. My work wasn't done on time and was a 6 weeks later than told. Then again they didn't mention they were moving when they took my order. The owner was cavalier at best. When I did receive my engine pieces back some were missing which required another trip after the were located. The BIG complaint comes from sloppy work. I posted pic's here 7 yr's ago of how it was received. Lots of machining burrs, coils and shavings. No effort had been made to clean the parts after machining. Metal shavings throughout the case 1/2's. When I complained I was treated as if I were lucky to have had them do the work. Remember that cavalier attitude! Later when CC'ing the heads I found the alcohol leaking around the valves so I ended up lapping the valves myself. Fool me once shame on you.......................................

Posted by: young55961 Mar 13 2019, 01:45 PM
I use Brother Machinery in Ontario for my VW Type 1.

Happy with them.

Not sure about Type 4.

Posted by: mgphoto Mar 13 2019, 02:48 PM
OK, way back when Capt N Krusty recommended a shop near LAX, their name is Engine Machine Service EMS, I can say they know there stuff.

Bruce, if I remember correctly, is the VW type IV guy. I saw some really nice engines come out of there.

EMS
8416 Osage Ave.
Los Angeles, CA 90045

310 641 7019


Highly recommended.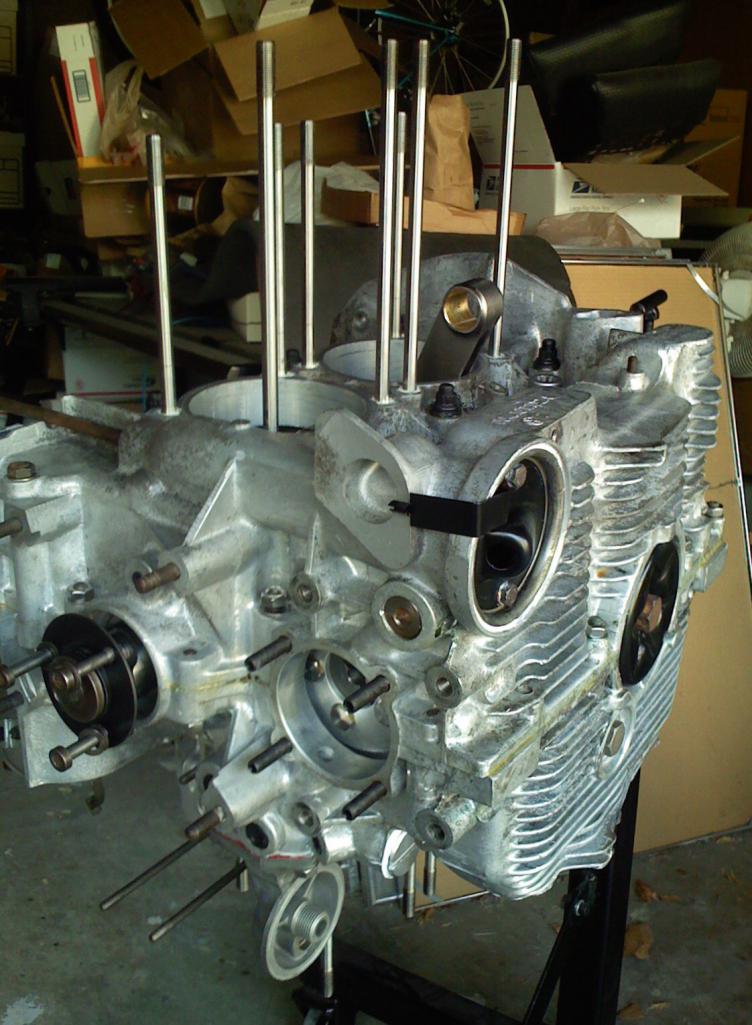 Posted by: draganc Mar 13 2019, 08:00 PM
Check out: http://dprmachine.com/

I was planning to use their service but changed direction. Spoke to the owner with positive impression (took his time and sounded knowledgeable). Also, should be close enough for you to drive by and chat in person.

Posted by: yeahmag Mar 13 2019, 08:53 PM
I plan on running a DPR crank. I hadn't thought about using him for the case.

Posted by: flmont Mar 13 2019, 10:29 PM
Hell,..if I could have got a good crank like their's my 914 would have been on the road a long time ago,.!!


Posted by: Mark Henry Mar 14 2019, 11:46 AM
-Use a good 1.7/1.8 block, you need to check but you shouldn't need a line bore.
-Case deck good plan.
-No or little clearance needed for the case, rods need to be clearanced, it's the cam lobe in the way and why you have to use a reduced base circle cam.
Also why you use chevy rods for strokes over 78mm. At 82mm you run into a lot of rod/cam issues.

My favored combo 78mm crank with Type 1 rod journal and CB rods, with full balance.
Crank has less flex with the bigger T1 rod journals.

Posted by: yeahmag Mar 14 2019, 02:10 PM
I'm mainly considering 78mm-80mm for the Chevy (Buick) rod bearings that appear to be superior to anything in the VW ecosystem. I have 2 cases (both 1.7) to choose from.

I have a set of JE's with 22mm wrist pins, awesome heads for Len (that were Finch heads), and just need to decide on a cam and get moving. Still thinking an 86B, but may consider something bigger.

Hoping to spin to 7500RPM to avoid the 2-3 shift as much as possible.



Powered by Invision Power Board (http://www.invisionboard.com)
© Invision Power Services (http://www.invisionpower.com)