Printable Version of Topic
914World.com _ 914World Garage _ My First Classic Car: 914 Restoration
Posted by: PorscheGirl96 Jan 14 2020, 04:36 AM
Hiya!

I've been scouring so many 914 posts and seen all the amazing restorations you guys have done over the years and found some really valuable information I would've perhaps missed otherwise...

So a little intro:
I'm currently a final year university student, and for my dissertation I chose to model my project on the "Critical Evaluation of the Performance of a Porsche 914 Engine, proposing improvements based on more modern materials and technology."
And lucky for me, it's been done parallel to the actual vehicle restoration!

My Dad purchased the 1974 914 2.0L from California in auction, (he won't tell me for how much because I'm sure my Mum would go mental...LOL).

So the idea of my dissertation is to run simulations for the original engine specs, looking at vehicle performance, emissions and fuel economy, and seeing, based on the improvements I want to make, how much of a difference there is, and finally creating a series of engine maps including race, eco and sport maps.

There is no doubt that all three of my objectives will have increased dramatically compared to the original specs, especially since modern technology has had a large focus on reducing all engine pollutants for the sake of global warming.

I'm currently looking at switching to a distributorless system, whilst keeping it all in the original distributor package, and installing an adjustable crank sensor which I need for the mapping.

I know this is a long post, so I'll put up a few photos


I'd appreciate any advice going forward!

PorscheGirl96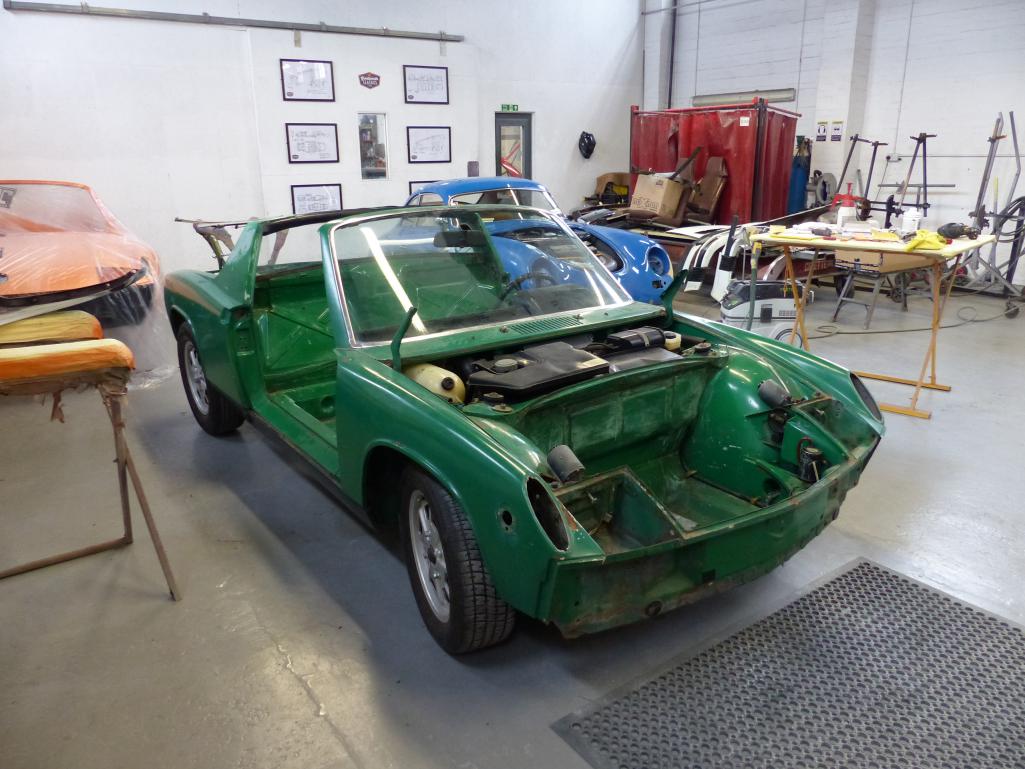 Posted by: dax1969 Jan 14 2020, 05:24 AM
welcome and good luck. Keep us posted on your project !

krgds
Dax
Belgium

Posted by: Rleog Jan 14 2020, 05:27 AM
Welcome on board. I'll be following your thread closely.

Posted by: Ian Stott Jan 14 2020, 06:18 AM
This is a post to watch Good luck to you

Ian Stott
Moncton
Canada

Posted by: BeatNavy Jan 14 2020, 07:02 AM
QUOTE(Ian Stott @ Jan 14 2020, 07:18 AM)


This is a post to watch Good luck to you


Should be very interesting.
And,

We've been getting a lot of Euro newcomers lately. All good.
Posted by: daytona Jan 14 2020, 07:33 AM
Welcome too 914 world PorscheGirl96.
Your dissertation and project sound very interesting. Keep posting and keep us up to date as the project moves forward. All the best to you as you complete your studies and become an engineer. Also good luck to you and your dad with the 914 project. There is no better place to look for information and help than this 914 community.
Welcome.

Bill.
Ormond Beach, Florida.

Posted by: bbrock Jan 14 2020, 08:01 AM


Subscribed!!!

Posted by: Cairo94507 Jan 14 2020, 08:12 AM

Sounds very interesting and fun at the same time. Please keep us posted on your progress on both fronts.

Posted by: wysri9 Jan 14 2020, 05:54 PM
I hope your dissertation does no make my 2258 build redundant! Sounds very interesting - I will be watching carefully! I am well in to my rebuild in Scotland and have learnt many lessons on suppliers etc. Do PM me if I can help in any way.

Simon



Posted by: burton73 Jan 14 2020, 07:18 PM
This is great. Happy that you have found us.


Bob B in CA

Posted by: mepstein Jan 14 2020, 07:29 PM

Posted by: porschetub Jan 14 2020, 08:49 PM

looks like a good start ,just go for it you may dislike it during the build but end result you will love it,working on these cars is fun,huge parts network and lots of great folks on here to help....enjoy.

Posted by: Mark Henry Jan 15 2020, 07:29 AM



Very cool


What EFI ECU do you plan to use ?

The T4 isn't the most green friendly engine due to it being aircooled, you always should be running at 3000 rpm for the cooling fan. Plus it's based on 80-90 year old technology.
For pollution control there's high flow cats (catalytic converters) that weren't available when the car was built, but you'd then need a welding course and design an exhaust system.
This would definitely tie into the EFI system.

Another 914 issue for anyone with headers is heat.
For less than 200 quid you can get an efficient diesel heater kit on ebay, the big question is how to mount it and get it into the cabin with the least mods to the body? There's a thread here on a historic 914/8 that gives clue to how Porsche did it 50 years ago.

I'm sure the members here will help and don't be afraid to ask questions.
Good luck with your project, Tally-ho.



Posted by: Chief Jan 15 2020, 08:16 AM
Sounds like a really interesting project.
I will be building a 2.4 with ITB's and stand alone ECU in the coming months so shall be keen to see where you head with this.
http://www.911uk.com/viewtopic.php?t=102365
Thread to my U.K build. If I can be of any assistance get intouch

Powered by Invision Power Board (http://www.invisionboard.com)
© Invision Power Services (http://www.invisionpower.com)