Posted by: frostyf Mar 25 2020, 11:08 AM
Wanted to ask fro some advice from those who know.
My right rear caliper (4 stud stock 73 914 wheel) has started leaking. I've recently adjusted the venting distance whilst repairing the handbrake/ebrake.

I've ordered two rebuild seal kits but wondered if anyone knows where to get replacement pins and the spring spreader clip. I've looked online and there seem to be plenty for front calipers? Are they the same, are the front pins interchangeable with the rear?

Thank you in advance,
Nick

Posted by: Cairo94507 Mar 25 2020, 12:20 PM
Call Eric Shea at PMB Performance in Utah. He is the answer to all of your brake needs and a whole lot me too. https://www.pmbperformance.com/catalog.html

Posted by: frostyf Mar 25 2020, 06:12 PM
Thanks for the steer, I emailed Eric and he came straight back to me. I had already bought two refurb kits from Pelican, but wish I'd gone straight to PMB.

One question I've still got is where to source the Rebe R5 tool to remove the caliper fasterners? Does anyone know where to source one of these? Looking at Eric's refurb film it says to avoid using the Torx sets as they can damage the fasterners. Eric said the replacements are about $15 each.

Can anyone advise on where to find these online?

Thank you,
Nick


QUOTE(Cairo94507 @ Mar 25 2020, 06:20 PM)

Call Eric Shea at PMB Performance in Utah. He is the answer to all of your brake needs and a whole lot me too. https://www.pmbperformance.com/catalog.html

Posted by: mepstein Mar 25 2020, 06:17 PM
I got mine on Amazon or eBay. I can't remember.
@http://www.914world.com/bbs2/index.php?showuser=17168

Posted by: 914e Mar 25 2020, 10:09 PM
Is it Rebe or Ribe? Summit racing has Ribe bits.

Posted by: davep Mar 25 2020, 10:19 PM
Ribe! Unless you are mechanically highly skilled, let PMB do the refurb. It takes several special tools and lots of experience to do a rebuild properly. Even then, the replated parts that PMB uses are not available to the home rebuilder.
The pins and spreaders are nearly unique, so finding them is very hard.
The most likely source of leaks is from the O-rings on the adjusters. The outer one is very tricky to replace; I use a special tool for that one.
Sure, in the video it looks easy, but that is in he hands of an expert. So far I am just an ex-squirt with 45 years of experience fixing them.

Oh yeah. If you are going to use the Ribe bit, use it only to hold the head of the bolt and turn the nuts.

Posted by: Tbrown4x4 Mar 26 2020, 04:57 AM
If you are mechanically inclined, it's not too bad, but you need to be able to transform this pile of parts back into a working caliper: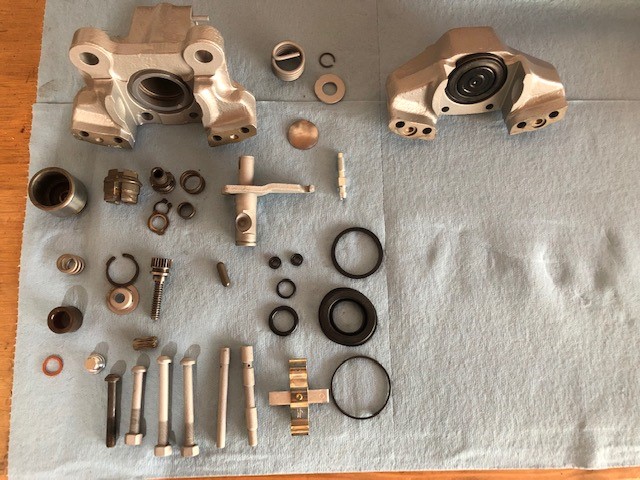 If you have any reservations, send it to Eric.