Posted by: ClayPerrine Jul 27 2020, 11:29 AM
All,
Put on your mask and get your 914 out of the garage. Come to the PCA event on August 8th. Enjoy some nice Porsche cars and help out the local food bank with their canned food drive.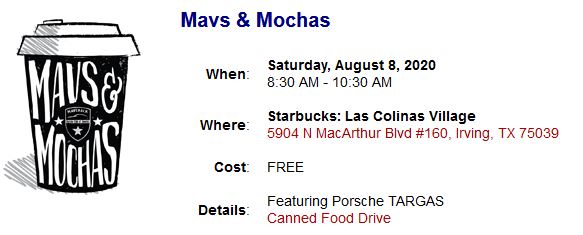 Make sure you check the link before you leave. Lots of things getting cancelled these days. http://mav.pca.org/Events/mavsandmochas/


Clay

Posted by: Betty Aug 6 2020, 10:13 PM
Bumpety bump.

We'll be there (they moved it to Plano). Clay will be driving his monster 6

and I'll be driving the original 6.



Canned food drive too so it's even for a good cause.

Posted by: scottthephotog Aug 7 2020, 12:16 AM
Planning on going in the 914. Do you guys want to caravan there?





Katie has a work meeting from 8-9. She's planning on showing up late in her fake Porsche (aka Miata).

Posted by: ClayPerrine Aug 7 2020, 05:32 PM
We can meet up at your house about 7:15 am. Are toll roads OK?

Clay

Posted by: scottthephotog Aug 7 2020, 07:52 PM
QUOTE(ClayPerrine @ Aug 7 2020, 06:32 PM)


We can meet up at your house about 7:15 am. Are toll roads OK?

Clay

Sounds good. Yup, tolls are fine. See you in the morning!
Posted by: Betty Aug 9 2020, 08:34 PM
QUOTE(scottthephotog @ Aug 8 2020, 09:09 PM)

Oh... My... God!!! You got a picture of Chet the Unicorn!
I started calling the engine in Clay's car the "Unicorn Motor" because it was his ultimate dream engine and was one of one. Last year, at the
very
last minute (he had been able to put only 20 test miles on the car before we loaded it on the trailer) he was able to get his car running for Okteenerfest.
To honor all of the blood, sweat and tears he had put into the car, I got him a card with a Unicorn on it and that tiny little model of a Unicorn. He proudly displayed both at the car show at Okteenerfest. He named the Unicorn Chet because that was the name of a Unicorn in some Sci-Fi fiction book we had both read. Chet is his car's Spirit Animal.
Truly a beautiful picture Scott! Thank you SO much for posting that, it made me tear up when I saw it! All great art causes an emotional reaction.

Posted by: scottthephotog Aug 10 2020, 03:06 PM
Haha. Yes. I thought Chet the Unicorn was super cool and I had to get a photo of it. Clay told me a little bit of the story behind it. I don't know how I missed it at Okteenerfest.

Thank you for the compliments. You're welcome. It was my pleasure. It was fun to get out and drive the other day.