Posted by: Tdskip Feb 1 2023, 11:57 AM
Ah the hazards of Porsche lego sets...

Nearly done with swapping in a 911 front suspension on the '74 blue 914/6 build and hit an unexpected issue.

The brake hose that was on the car with its original suspension fits a strut with an open mounting point whereas the 911 struts I put on the car have a closed and too narrow closed opening.

In other worse the metal end of the brake hose won't fit through the opening on the new strut with the red arrow and is designed to use an open mounting point as shown by the yellow arrow.

Anyone know offhand what year 911 brake hose would work? I am thinking pre-1970 but that is a bit of a guess frankly.

Thanks!

Posted by: 914Sixer Feb 1 2023, 12:34 PM
Use the 914-6 or 911 hoses with line holders up to 1973. You need brake spring(27) and 911 clip (26). Clip 26 is completely different than 914 version. You can use the 1 piece late 73-76 brake line though.


Attached thumbnail(s)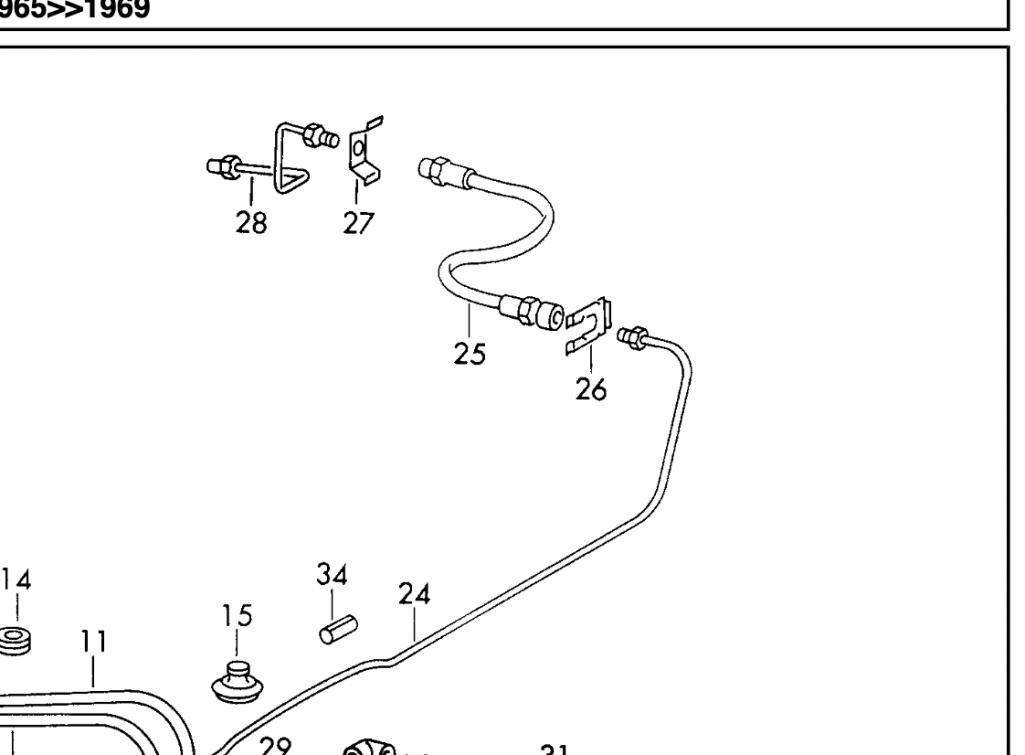 Posted by: 76-914 Feb 1 2023, 05:02 PM
Check with Molly or Eric @ PMB. I just received a bunch of brake parts and I questioned them about the early hoses they sent for my '73 5 lug conversion. Molly said that's what is needed and they shipped the spacer to make it work.

That's all I can offer you as I haven't jumped into the changeover yet.

Posted by: Tdskip Feb 1 2023, 06:02 PM
Thank you, super helpful and very much appreciated.

Posted by: mgp4591 Feb 2 2023, 12:14 AM
QUOTE(Tdskip @ Feb 1 2023, 05:02 PM)


Thank you, super helpful and very much appreciated.

Holly, not Molly...she's a pro. And Eric too, of course.
Posted by: Tdskip Feb 12 2023, 11:58 AM
Just a quick note to say that I finished this up with your help.

Early hoses and fitting worked a treat.

Thanks for the help.